Posted September 12, 2019 at 06:03 pm
THAT'S RIGHT!! Book three of Not Drunk Enough (the last and final!!) will begin updating on October 8th!! Look forward to it!! I know I am!! Thank you so much for your always support--I canNOT wait to share with you what's in store! I'll also be in New York this week, so please drop by and say hey if you're going to be at the convention! Can't wait to see y'all!
MUCH LOVE!! And more info below! vvvvvvvvvvv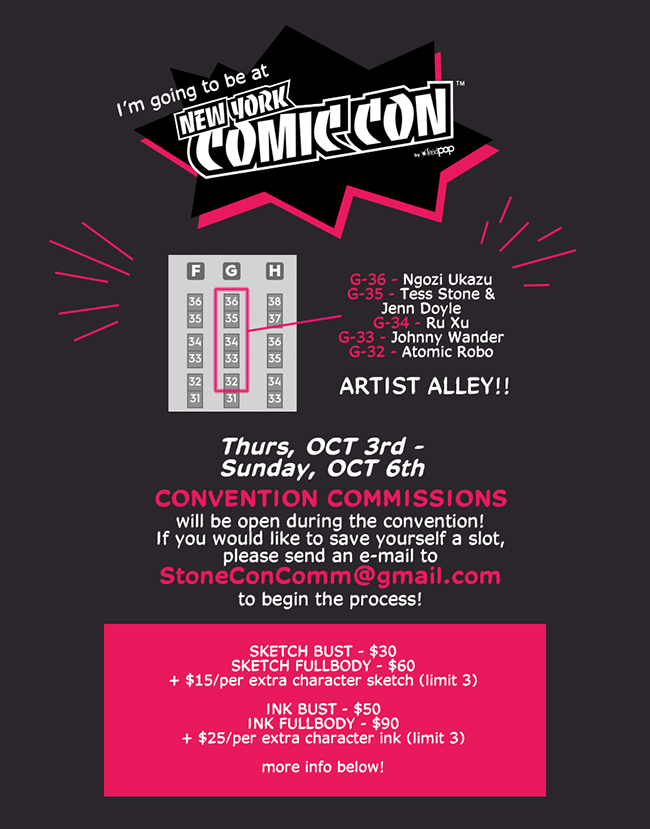 Hey everyone!!
Are you going to NYCC or have a friend who's going to NYCC and would like a commission?? Since it's one of the biggest cons of the year that I attend, I am slotting away time to get started on commissions early so that more slots are available!! If you are interested, please hit up the e-mail StoneConComm@gmail.com to get the process started! What to send me:
-- What you're interested in getting (which tier, IE sketch bust + character, etc)
-- Who/what you would like me to draw! If it's an OC please feel free to show me as much reference as you'd like, as well as include a little bit bout them! I LOOOOOVE drawing OCs, DnD characters, the whole lot! If it's a licensed character, or something along those lines, give me the best name to Google them by as well as 1 image (so I at least know I'm finding the correct reference alongside!)
-- If you or a friend is picking up the piece at NYCC! If a friend is picking it up for you, let me know who so I don't accidentally give it away to the wrong person! If you're unsure who it may be just yet, don't worry! You have until the convention to e-mail me back and let me know! I won't hand over the commission unless I get authorization from you to make sure it gets to the right person!!
That's about it!! I look forward to hearing from you! And here's a few other tips (that are up in the image above) but for easy reading, I've provided it here too:
Please note that all commissions are traditional, and there will be NO shipping. PICK UP at convention ONLY. If you cannot make it, but would like to send a friend for pick up, please mention this in your e-mail and we will work it out!
Pay is upfront, and unfortunately no refunds if you cannot pick it up at NYCC suddenly, as the work will be completed.
I will still be taking commissions DURING the convention, so if you do not sign up for a slot now, don't worry! There will be slots left!
Expect about 24-48 hours for responses! I will do my best to reply quicker than that, but just in case, don't worry! If you e-mailed me before the convention, I will make sure you get a slot! <3

Also one last thing to note:
This e-mail is for convention (NYCC) commissions ONLY. I unfortunately am closed to regular commissions, and it is not a good place to reach me for other questions, or work related inquiries. Thanks for your understanding!!
Y'all are AWESOME as always, and I'm excited to see you at New York Comic Con 2019!!! (and for the ramping up of the beginning of BOOK THREE OF NOT DRUNK ENOUGH!!)
-Tess!